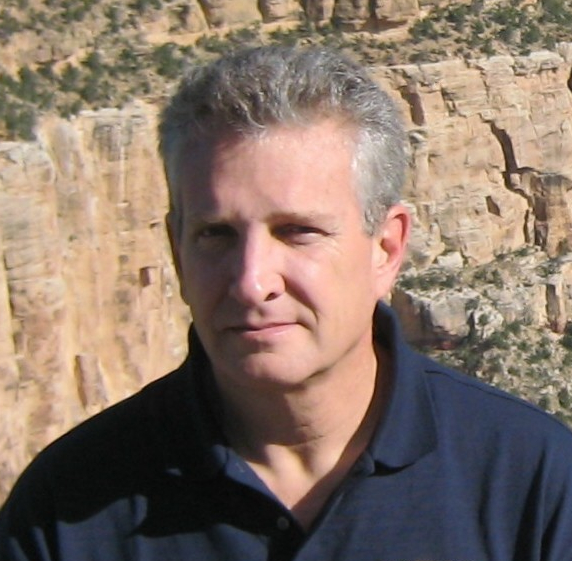 Born and raised in San Diego, California, Andrew attended La Jolla High School before enrolling at the University of Oklahoma, where he earned a Bachelor of Science Degree in Architecture.
At a very young age, he won his first pellet gun shooting competition at summer camp. His early fascination with rifles became a life-long devotion to excellence in marksmanship with high-power rifles. He has won numerous competitions throughout the Southwestern United States, including a gold medal at the 1995 Excellence in Competition match at the Nevada State Championship, and a first place victory at the 1994 Arizona State Championship, 1,000 Yard Service Rifle Match. Currently, Andrew holds the classification of Master in the NRA's High Power Rifle ranking system.
Andrew began writing fiction in 1990. He sold a short story, Mr. Haggarty's Stop, to San Diego Writers Monthly in October, 1992. He continued to write, exploring both the novel form and screenplays. After attending his first writer's conference in 2005, he became serious about writing the Nathan McBride stories.
FIRST TO KILL is Andrew's debut thriller which features Nathan McBride, the "brutally effective" trained Marine Corps scout sniper and CIA operations officer. It launched as a mass-market paperback from Leisure Fiction in 2008. Costco Wholesale made a regional purchase of FIRST TO KILL and carried it in 97 warehouses in five western states, CA, AZ, CO, UT, and NV. Over a three-week period, Andrew visited 91 Costco locations where he signed stock and spoke with members.
While on his book signing tour, Andrew took time to visit VA hospitals and sit with our nation's veterans. He gave away hundreds of books. In Phoenix, he had the honor of meeting a Pearl Harbor Survivor and one of the last remaining Navajo code talkers. To date, Andrew has donated over 3,000 books to our troops serving overseas and to our wounded warriors recovering in Naval and Army hospitals all over the world.
Shortly after FIRST TO KILL was sold, Audible.com purchased the audio rights, and FTK became an instant bestseller, reaching #7 on Audible.com's website. Dick Hill (the voice of Jack Reacher and Harry Bosch) did an amazing job narrating. His award winning voice makes Nathan McBride's compassionate—yet tough as nails—nature shine brightly.
Andrew's second Nathan McBride novel, FORCED TO KILL, launched as an exclusive audiobook in May, 2010, from Audible.com and it climbed a notch higher, reaching #6 on Audible's bestseller list. FORCED TO KILL is also available as a Kindle eBook and trade paperback.
In August of 2012, Thomas & Mercer, Amazon's Publishing's mystery/thriller imprint, purchased the rights to all three Nathan McBride books. OPTION TO KILL, the third in the series, launched as an exclusive Kindle eBook and was included in Amazon's new Kindle Serials project. As OPTION was being written, episodes were being released over a fourteen week period. Like the first two books, OPTION is now available as a completed Kindle eBook, Audible.com audiobook, or trade paperback.
Early in January 2013, Andrew signed on with Thomas and Mercer and has been working on several new books in the ongoing series.
Here are the Nathan McBride books in the order they were written:
FIRST TO KILL (originally published September 2008)
OPTION TO KILL (September 2012)
CONTRACT TO KILL (August 2015)
RIGHT TO KILL (Coming November 2016 – Pre-order now!)
The first five books are currently available as Kindle eBooks, Audible.com audiobooks, or trade paperbacks on Amazon's website.

This work is licensed under a Creative Commons Attribution 3.0 Unported License.
What people are saying about Andrew Peterson's books
An absolutely bone-chilling thriller. Equal parts Stephen Hunter and Thomas Harris. Imagine Bob Lee Swagger going after Hannibal Lecter and you will have only scratched the surface of this intensely exciting novel. Forced To Kill will haunt you long after you read its last brilliantly plotted page.

Brad Thor, #1 New York Times bestselling author of Foreign Influence
Part Jack Reacher, part Jason Bourne, Nathan McBride is a compelling, conflicted hero. Option to Kill is a masterful thrill ride. Definitely one for your keeper shelf. I couldn't put it down.

Steve Berry – New York Times bestselling author of The Columbus Affair
Andrew Peterson has created the most brutally effective thriller hero to appear in years.

Ridley Pearson, author of Killer Weekend
A high-powered thriller from a magnum-force writer.

David Dun, Author of The Black Silent
About the Author