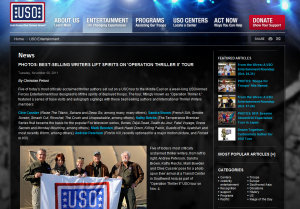 http://www.uso.org/Entertainment/News/PHOTOS–Best-Selling-Writers-Lift-Spirits-on–Operation-Thriller-II–Tour.aspx
I want to share this link because it's reflective of the tour and what our mission was all about. We weren't there to promote ourselves or our books. We were there to hear their stories and personally thank them for their service to America.
We flew halfway around the world to acknowledge and thank our service members, and all we heard were thanks from them! Kathy, Mark, Clive, Sandra, and I were singularly impressed by the professional and courteous nature of our service men and women in Kyrgyzstan and Afghanistan. All of us offer our unwavering cheers to our armed forces serving in harm's way. They're truly awesome individuals!
Many more pictures to come, so stay tuned!
read more