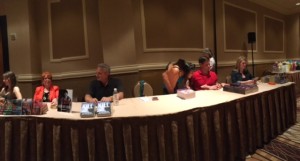 RT Booklovers Convention is always a whirlwind experience. Meeting readers, discovering new authors, getting together with friends, and attending parties is always a great time. I attended many workshops and panels that kept me up to speed on new trends in the industry and what readers are interested in. Being Las Vegas for all of this was like icing on the cake.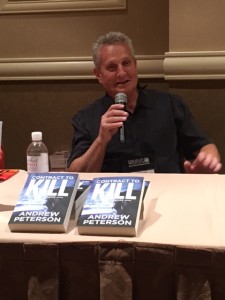 I'm not a gambler, but there's an air of excitement to the city. There are so many amazing shows and so much to do. When I learned over 3100 attendees participated, and even more the day of the book fair, I was pleasantly surprised. When competing for entertainment attention, books rank up there with new movies, proving once again that people love good stories. I get a special feeling when I'm talking to enthusiastic readers.
It was fun running into several friends when I arrived. James Rollins, who recently made #1 on the NY Times bestseller list, received an award from the book review magazine. My good friend Anderson Harp was busy with the thriller panels, but made time to meet up for lunch.
I also got the opportunity to meet Christine Feehan, another #1 New York Times bestselling author. We participated on a panel together about the military hero and his love life. Needless to say, Christine stole the show! She's a super talented author and an equally nice person.
On Thursday, I was interviewed for some videos about my books. I was later interviewed alongside author Pat Simmons as we talked about RT. This interview will be part of a promotional video that will launch online later this year.
Participating in the big thriller panel on Saturday night was an opportunity to sign books until I thought my pen would run dry!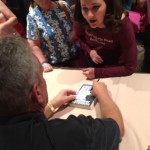 Toward the end of the week the annual Military SOS event allowed me to give free books to the troops and their families.
I had lots of fun. What happened in Vegas, actually came home with me, and for that I am grateful.
Next year's RT Convention will be in Atlanta (May 2nd – 7th) and I hope you'll join me!
read more