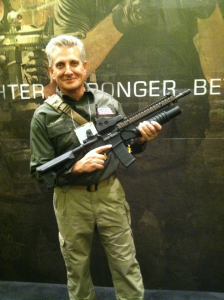 The annual Shot Show at the Venetian in Las Vegas this year was more fun than anyone should be allowed to have.
Where to begin?
ITW authors, Andy Harp, Jeffrey Deaver,  John Gilstrap, Kathleen Antrim  (co-president of ITW) and myself were guests of 5.11 Tactical.  We all signed books in the 5.11 booth and met hundreds of Shot Show patrons. On the first day, we went to the Boulder City range and test fired all kinds of weapons. You should've seen Kathleen Antrim with an assault rifle – an awesome sight!
Over 55,000 people attended. There were literally tens of thousands of rifles, handguns, shotguns, knives, and anything else you can imagine related to shooting sports.
Andy Harp and I attended USO tours to the Middle East to acknowledge and thank our troops serving in harm's way and 5.11 Tactical generously supplied all our clothing and gear for the tours!
The fun included weaving our way through a 20 acre showroom floor with gun enthusiasts from every corner of the globe. Andy and I had a nice dinner with Jeff Deaver and John Gilstrap. Toward the end, we saw an advanced screening of Act of Valor. We met the producers Mouse McCoy and Scott Waugh – two really great guys. The movie was amazing. We're talking the real deal here. Actual Navy SEALS played themselves in the movie. It's a truly remarkable cinematic event, so don't miss it – coming next month. And the trailer is one of the best I've ever seen!
I sat on an author/press conference panel with Deaver, Gilstrap, and Harp. Among others, I met Chris Kyle, co-author of AMERICAN SNIPER, and sat next to him on the panel. He's an interesting man, but definitely reserved. He's donating his share of the proceeds to help his fellow members.
Last but not least, I want to extend a special thank you to Tom Davin, CEO of 5.11 Tactical for both hosting and inviting us to attend. His leadership and compassion are second-to-none and I feel privileged to consider him a friend. Cheers Tom!
read more